What sets Walsh Law, P.C. apart from other law firms?
Walsh Law's size is an advantage: an attorney is involved with each step of a client's representation and cares deeply about the attorney/client relationship. Tom Walsh and Marnie Walsh are experienced, reliable, well-respected attorneys in the Jefferson County and surrounding communities. They are dedicated to explaining clients' options clearly and responding to clients' concerns efficiently. Their mission is to help clients make educated choices with confidence.
How do I contact you?
Please click here to send us an email.
The telephone number for Walsh Law is 303-279-7229.
Please address correspondence to:
Walsh Law, P.C.
2201 Ford Street, Suite 203
Golden, Colorado 80401.
How do I get to your office?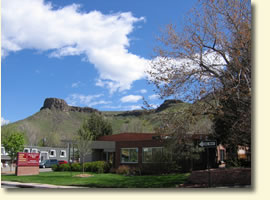 Walsh Law is conveniently located in the one-story brick building called the South Mesa Professional Building, at 2201 Ford Street, Suite 203, Golden, Colorado 80401. There is plenty of free parking in spaces next to the building and on the street. Please click here for directions and a map.
How long have you been a lawyer?
Tom Walsh was admitted to the practice of law in Colorado in 1990. Marnie Walsh was admitted to the practice of law in Colorado in 1991. Please click here for more information about the attorneys.
How many years have you worked for this firm?
Tom Walsh and Marnie Walsh formed Walsh Law, P.C. on July 9, 2004. Please click here for more information about the firm.
How much do you charge?
Walsh Law attorneys charge an hourly fee, in one-tenth increments. The current hourly fee ranges from $300 to $390. The firm's engagement letter describes additional details of the fee arrangements. Special fee arrangements may be negotiated in advance.
Do you require a retainer?
Walsh Law usually requires a refundable retainer in an amount based upon the nature of the representation. The retainer amount is held in the firm's trust account on behalf of the client and will be applied to the client's invoices as they become due. If the amount of the retainer is not enough to cover the outstanding balance, the invoice will show a balance due, payable upon receipt. Walsh Law may require supplemental retainer payments as representation continues. Upon conclusion of the firm's representation, in the event that outstanding fees and costs are less than the remaining amount of the retainer, Walsh Law will promptly refund the balance.
How do you get paid?
Walsh Law's invoices are sent monthly and are due upon receipt unless a refundable retainer has already been provided. Special payment arrangements may be negotiated in advance.
Do you take credit cards?
Walsh Law currently accepts MasterCard/VISA payments.
How do I hire you?
Please contact us by telephone at (303) 279-7229 to make an appointment to discuss your legal needs. Walsh Law requires a written engagement agreement. An attorney/client relationship is created only after we complete a check for conflicts and finalize an engagement agreement.
Are there any restrictions on terminating your services?
The client shall at all times have the right to terminate Walsh Law's services upon written notice. The firm shall at all times have the right to terminate its representation of a client upon written notice if the client does not pay fees and costs, if Walsh Law determines that its continued representation of a client would be unethical or inappropriate, or if Walsh Law has another reasonable basis for termination consistent with its professional duties to its client.
Do you take part in any continuing education programs?
Tom Walsh and Marnie Walsh take continuing legal education classes. The Colorado Supreme Court requires that each attorney complete at least 45 units of continuing legal education during each three-year compliance period. At least seven of the 45 units must be devoted to legal ethics.
What is the Colorado Attorney's Oath of Admission?
I do solemnly swear by the Everliving God (or affirm) that I will support the Constitution of the United States and the Constitution of the State of Colorado; I will maintain the respect due to Courts and judicial officers; I will employ only such means as are consistent with truth and honor; I will treat all persons whom I encounter through my practice of law with fairness, courtesy, respect and honesty; I will use my knowledge of the law for the betterment of society and the improvement of the legal system; I will never reject, from any consideration personal to myself the cause of the defenseless or oppressed; I will at all times faithfully and diligently adhere to the Colorado Rules of Professional Conduct.
Can you help me with my problem in Texas/California/etc.?
Marnie Walsh and Tom Walsh are only licensed to practice law in Colorado. While some of their clients live or do business outside of Colorado, their representation is limited to matters concerning the law in Colorado. Walsh Law will not represent clients from states where the content of this website does not comply with local ethics rules. Walsh Law will not represent clients with legal problems governed by the laws of a state other than Colorado. If you have a legal problem, you should contact an attorney who is licensed to practice law in your state.
What kind of law do you do?
Please click here to visit the firm's Practice Areas page.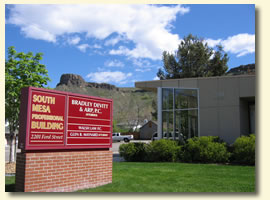 What if I need help with something you don't do?
Walsh Law would be happy to refer you to other attorneys regarding matters that are not within Tom's or Marnie's areas of practice.
Do you offer any free services?
Marnie Walsh offers a free estate planning questionnaire. Contact Marnie and ask for the free questionnaire by clicking here. Walsh Law provides free legal services only through organized pro bono programs of certain nonprofit organizations. Legal clinics are available throughout Colorado to help qualified individuals. Please visit www.ColoradoLegalServices.org for more information.